Smith & Wesson .357 Registered Magnum 8 3/4" 99%
No reviews have been written for this product.
Description
.

Manufacturer: Smith & Wesson

Model: .357 Registered Magnum

Caliber: .357 Magnum

Barrel Length: 8 3/4"

Bore: Mint

Finish: Original Blue

Grips: Original numbers-matching checkered walnut magna grips

S/N: 53270 REG No. 2650 (C&R or FFL Required)

This outstanding investment-grade .357 Registered Magnum , REG No. 2650, is equipped with King sights consisting of a 'high visibility' red-dot front on a reflector base and a round-notch white outline rear blade. We grade this extremely fine example of the Reg. Magnum model at 99%+ overall, it has only the slightest of collector-type handling evidence handling and can never be upgraded given the scarce optional features. It comes in the Type 2 blue & gold 'picture' box with the caricature of the gun featuring the magna grip. One of the best 8 ¾" barrel length in the former Ray Cheely collection and definitely one that deserves a special place in any collection of pre-World War II S&W revolvers!! 
WE ARE ALWAYS TAKING CONSIGNMENTS & WE WOULD LOVE TO BUY YOUR COLLECTION!

Payment is due within 7 days of auction close and we accept certified check, cashiers check, money order, personal check or credit card.

Funds should be made payable to:
BPW
6969 Gadsden Highway
Trussville, AL 35173

Please send a copy of the FFL or C&R license to:
Fax: 205-655-7808 OR E-mail: sales@birminghampistol.com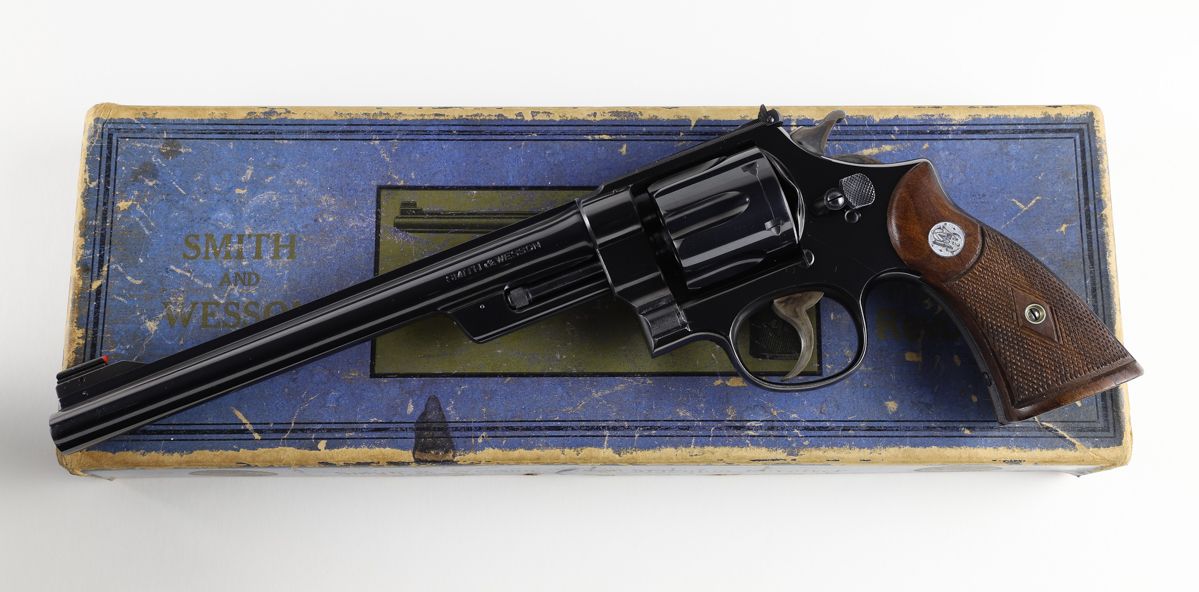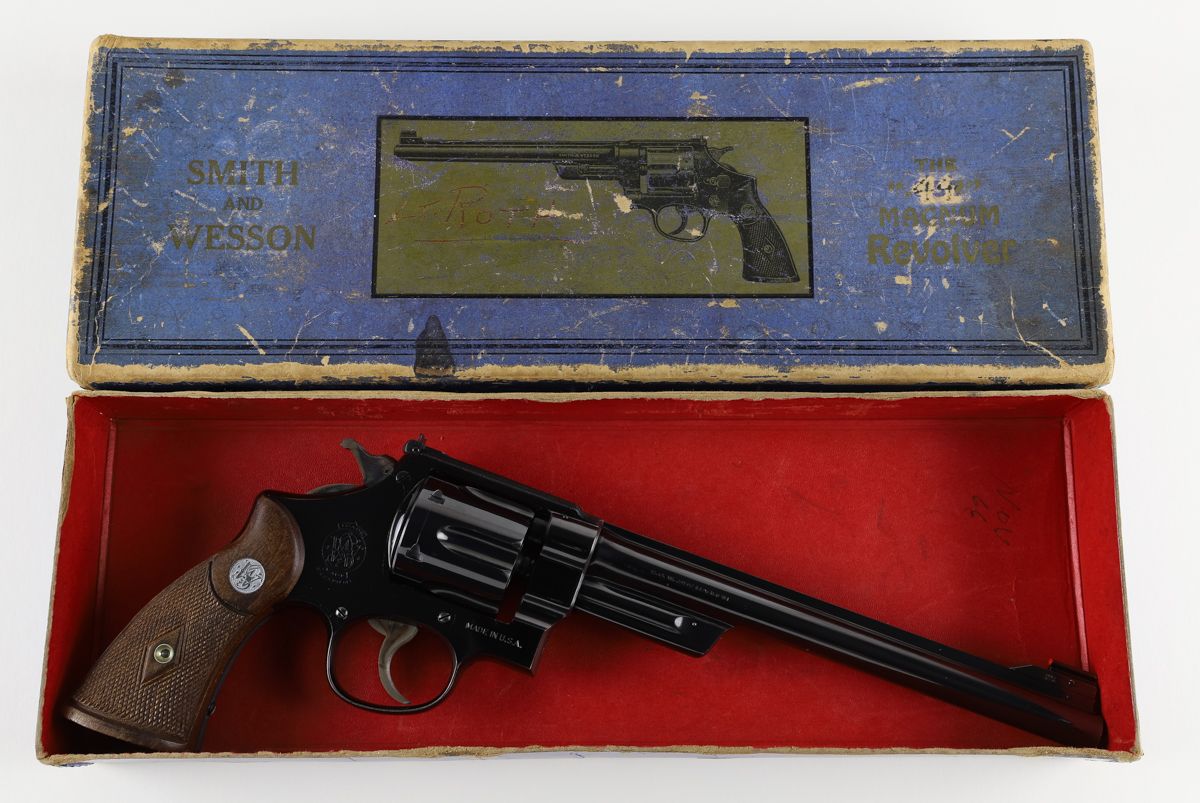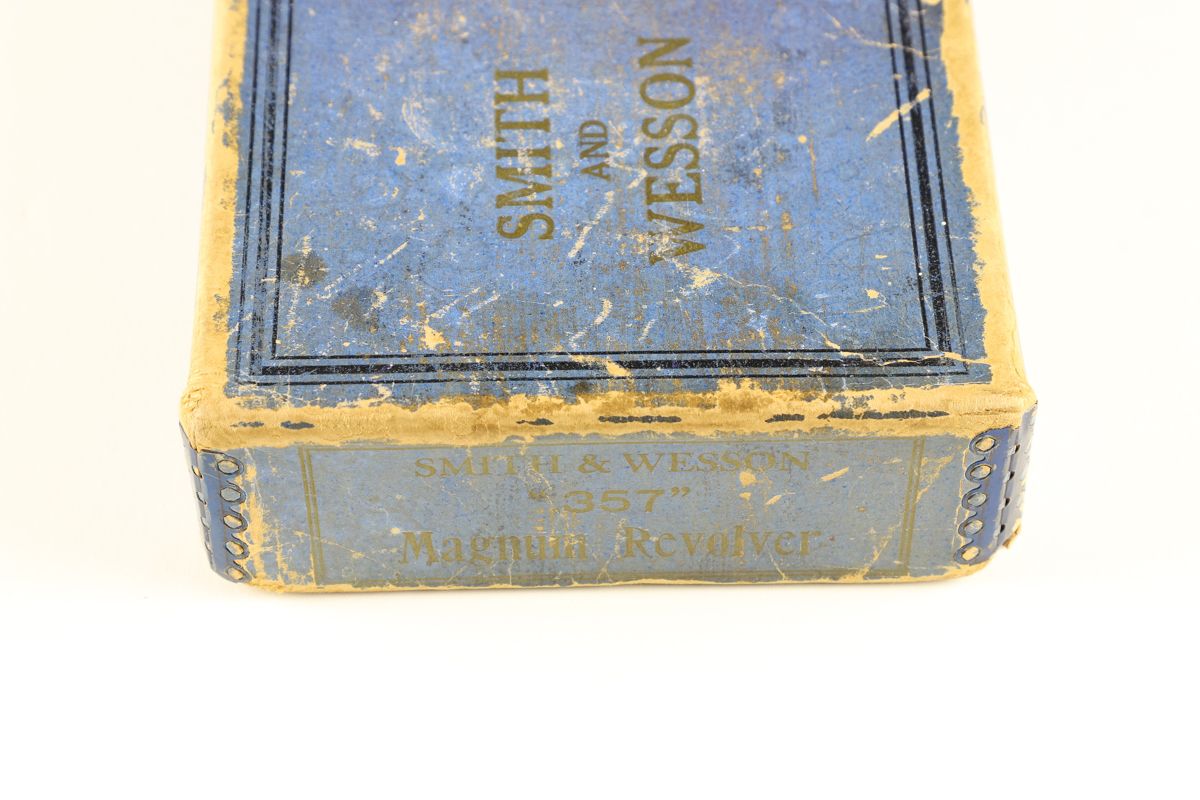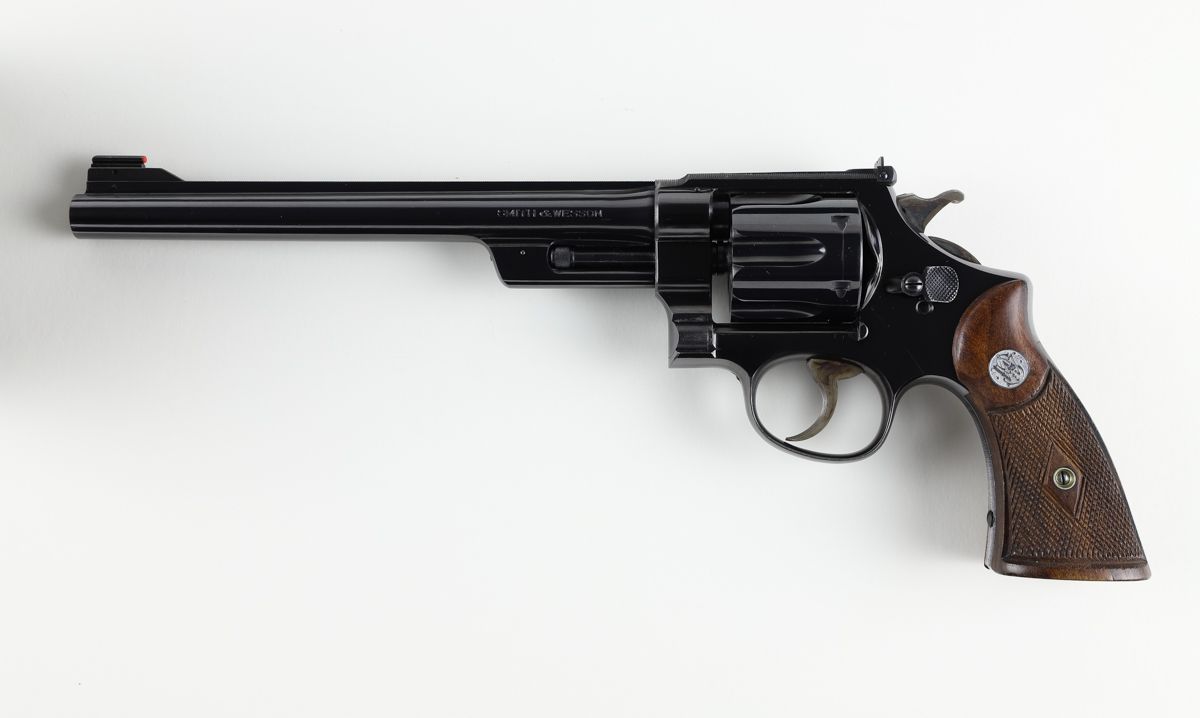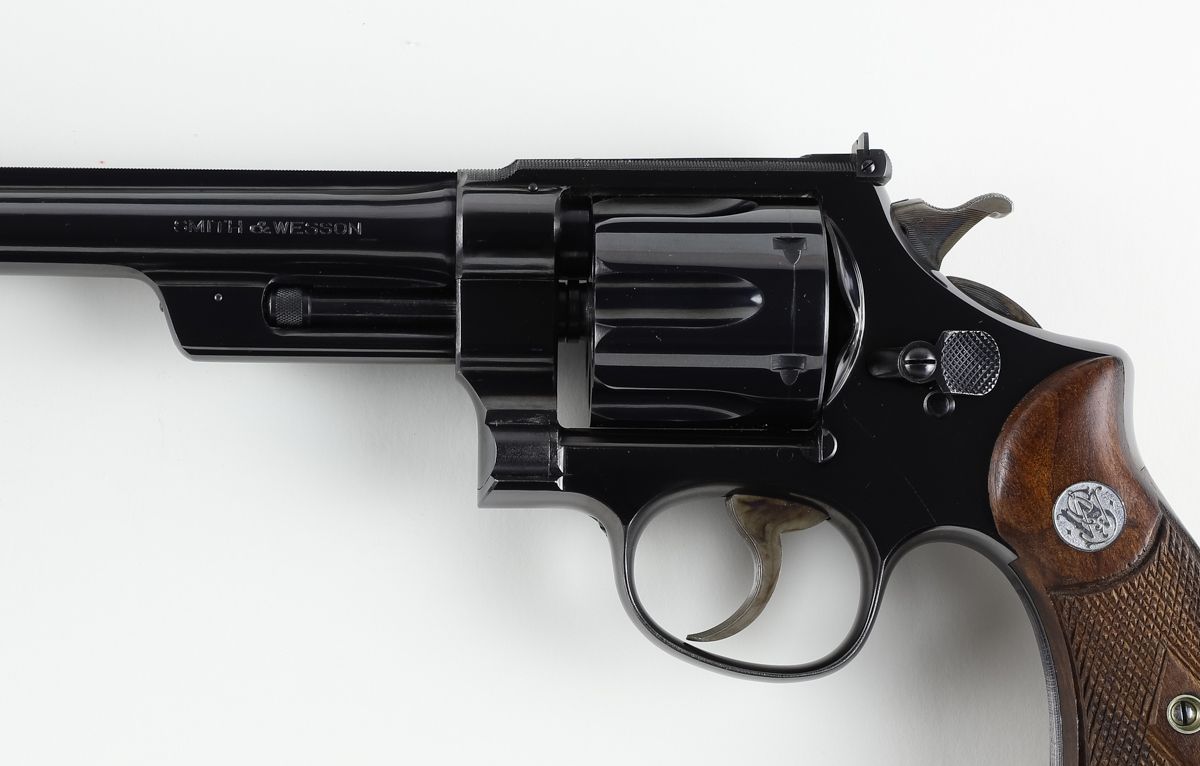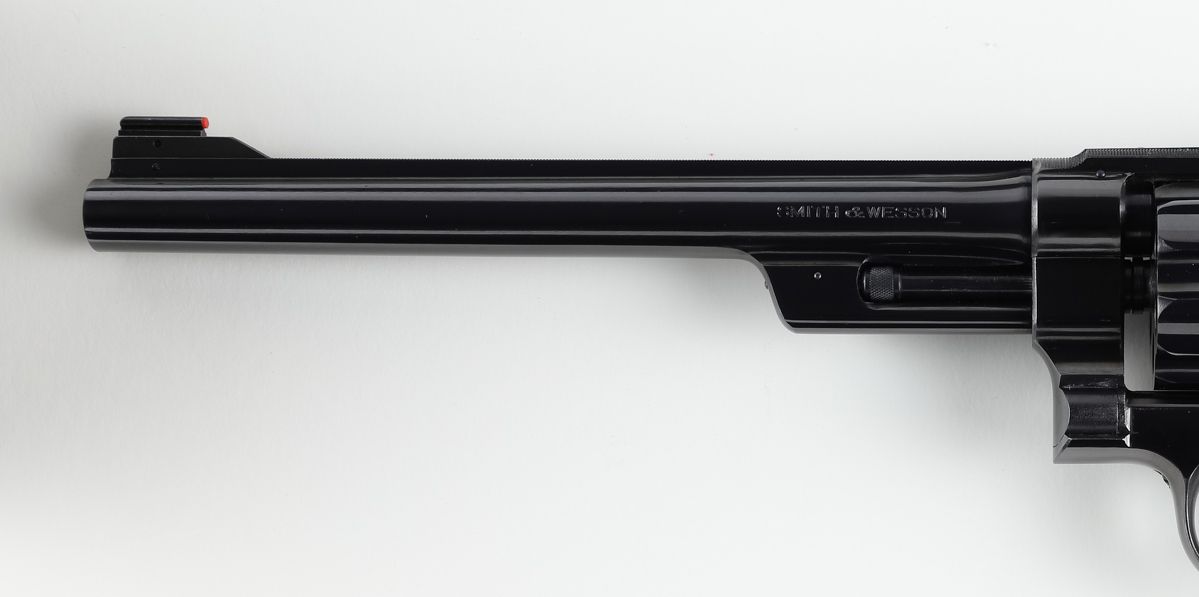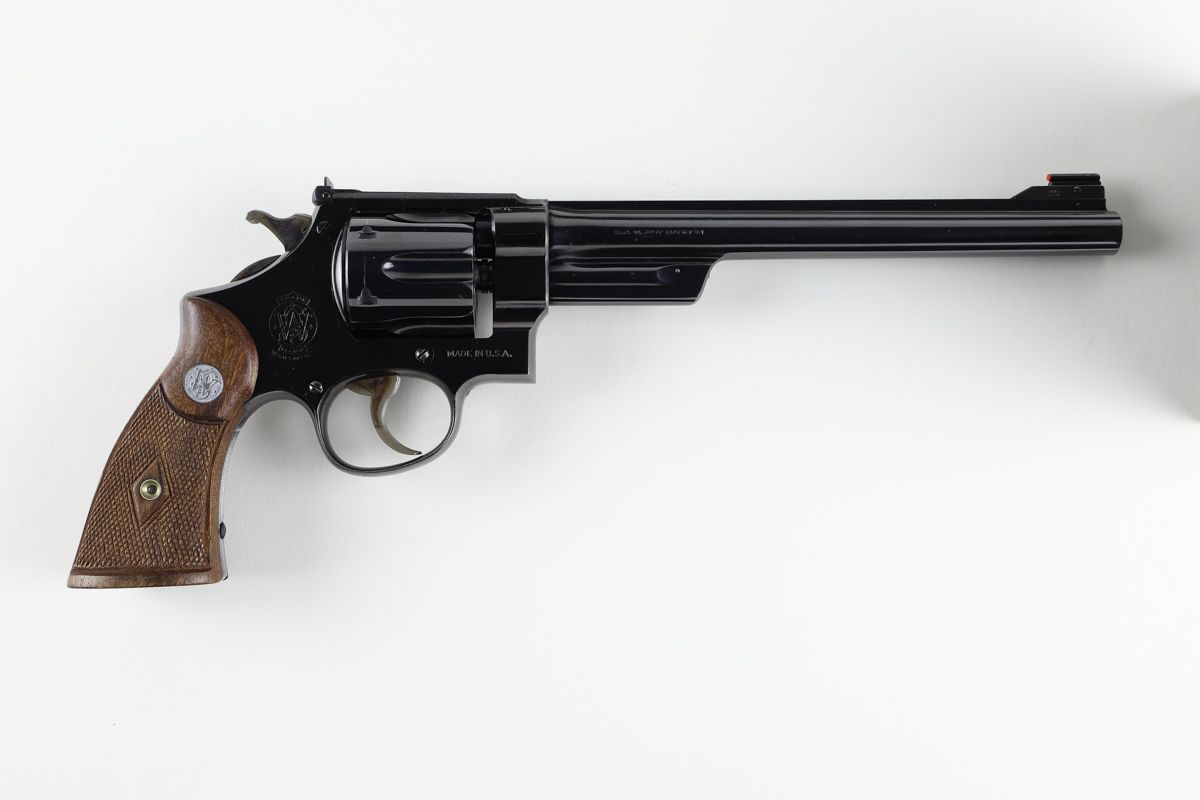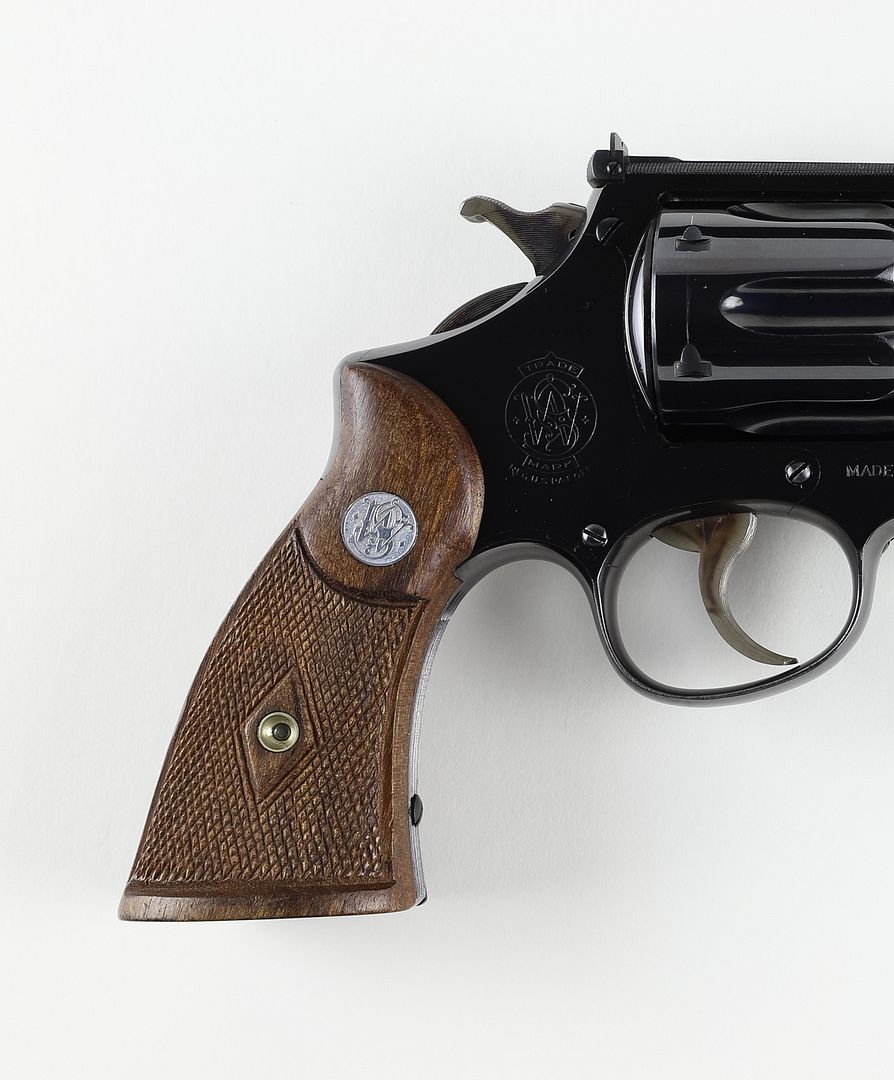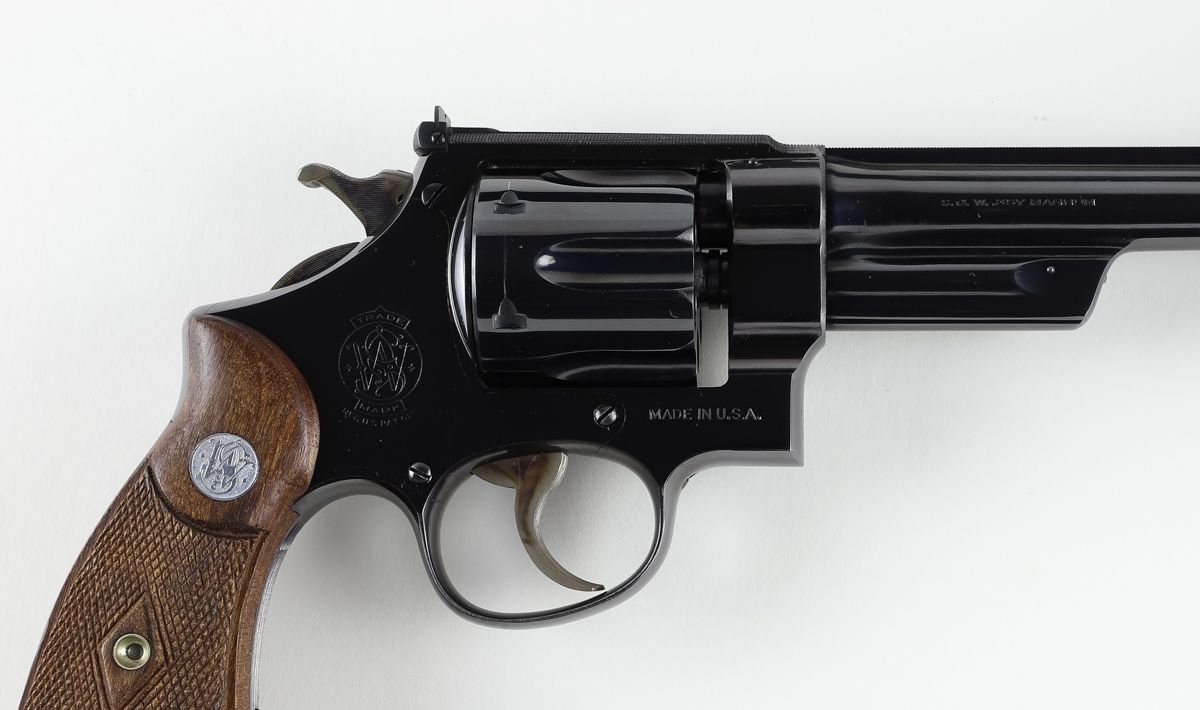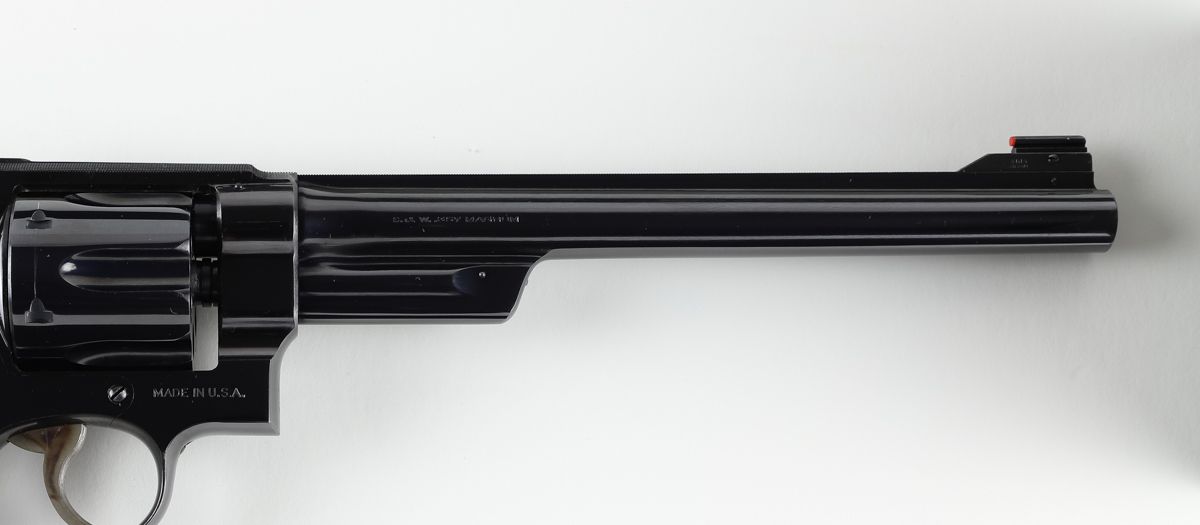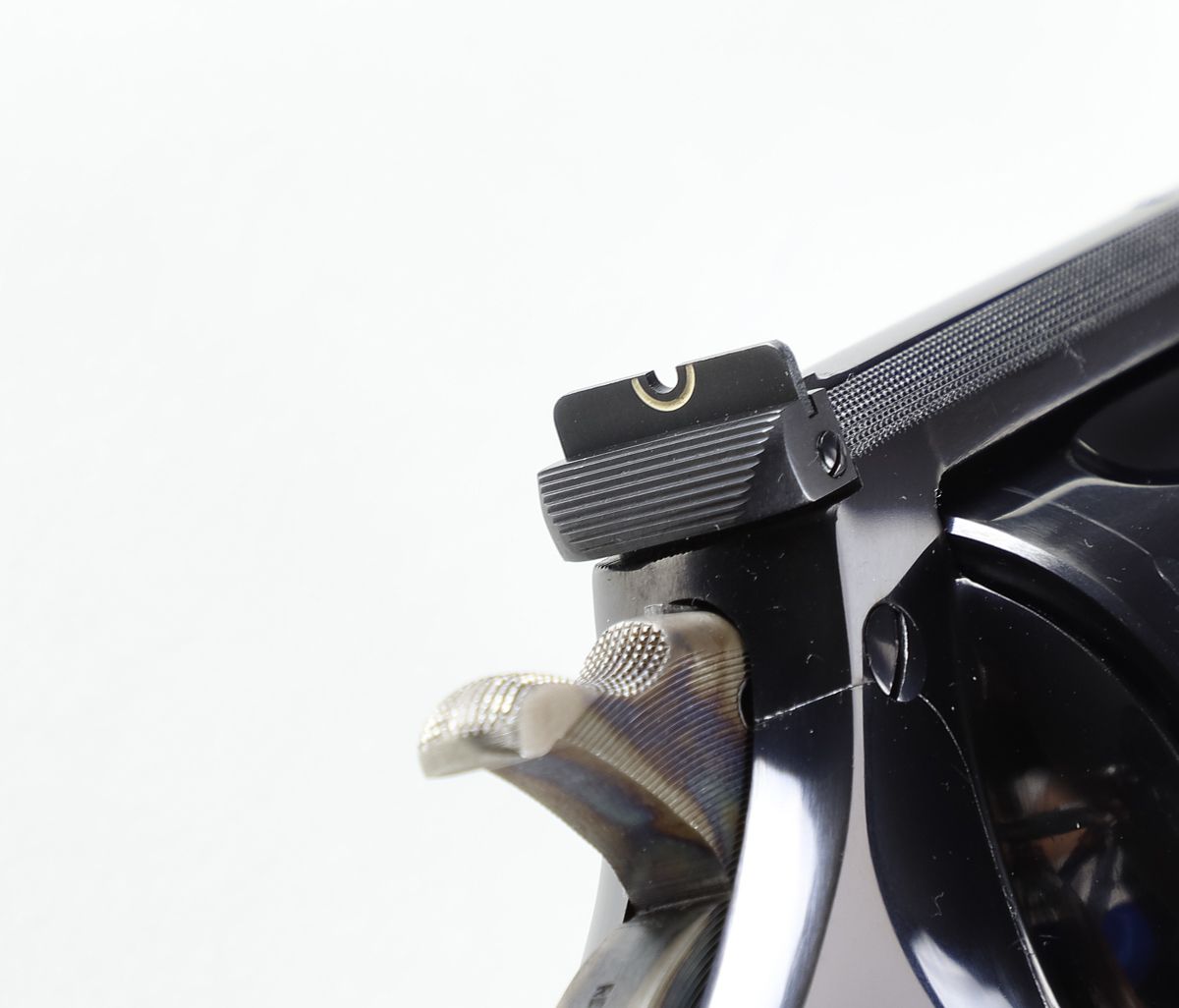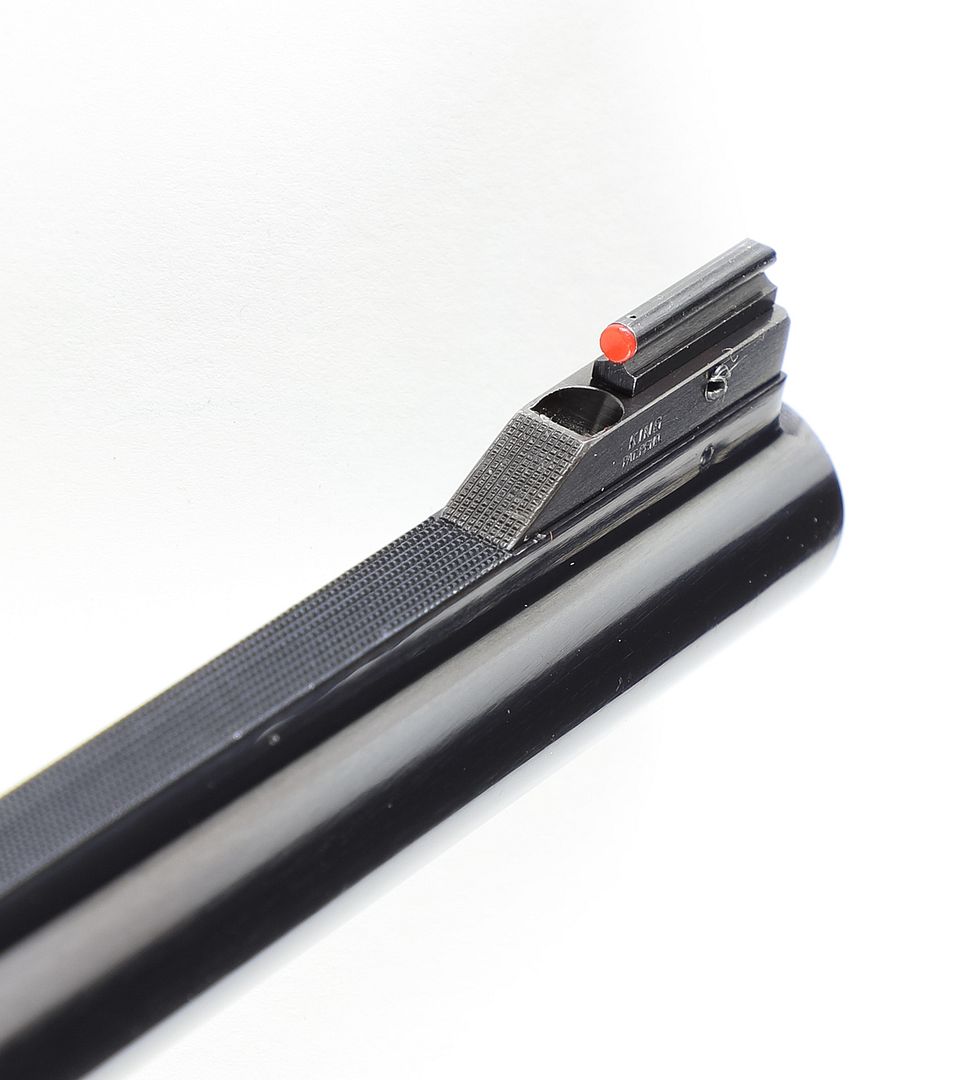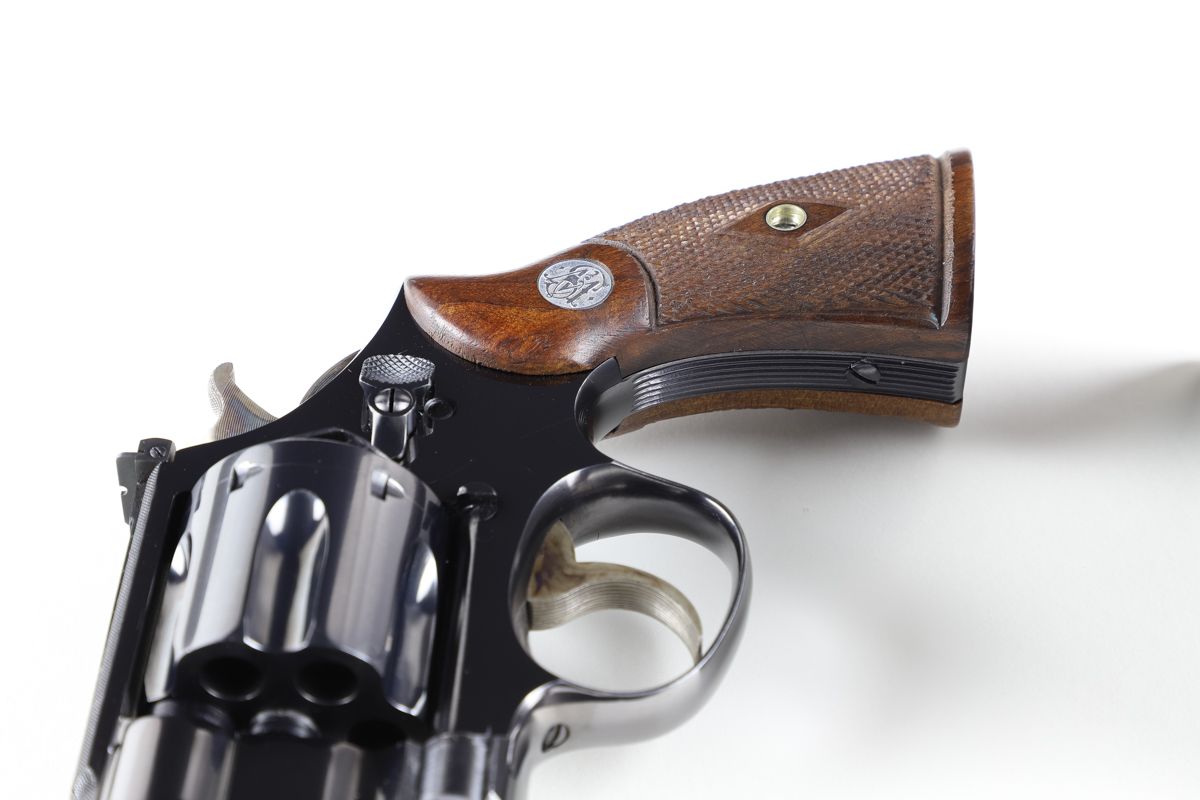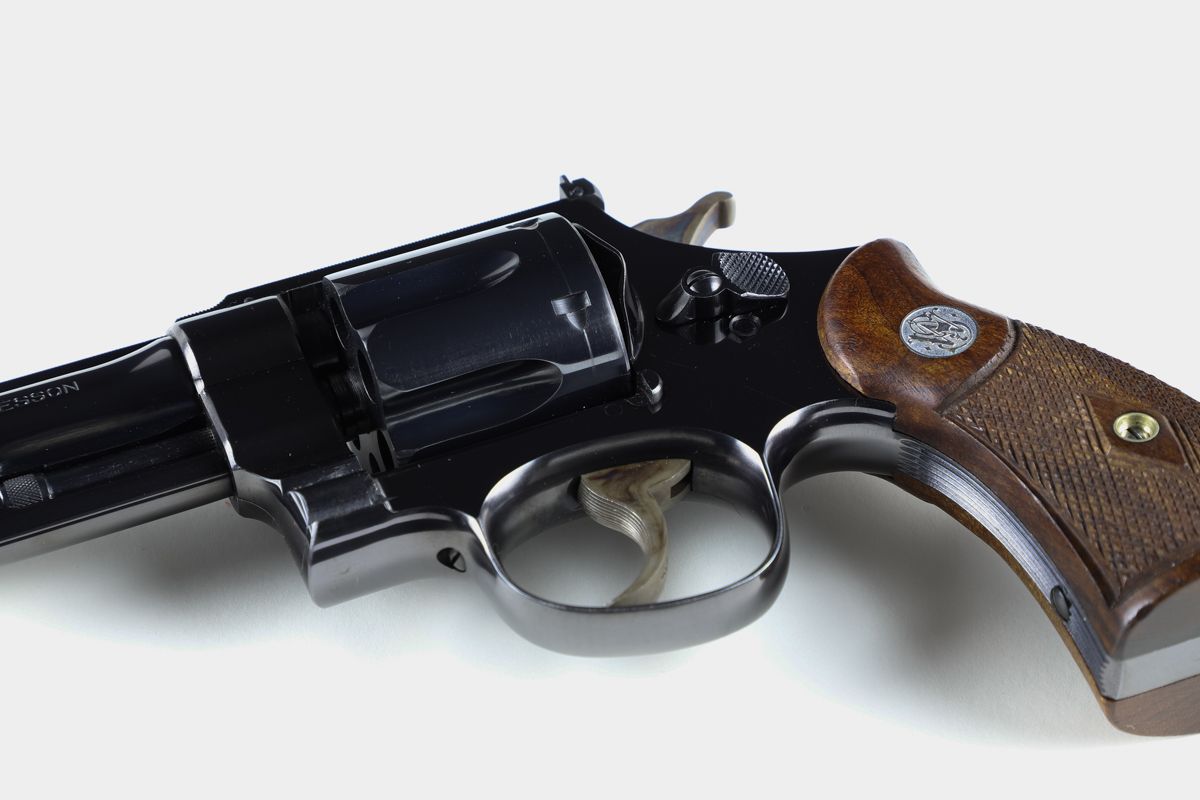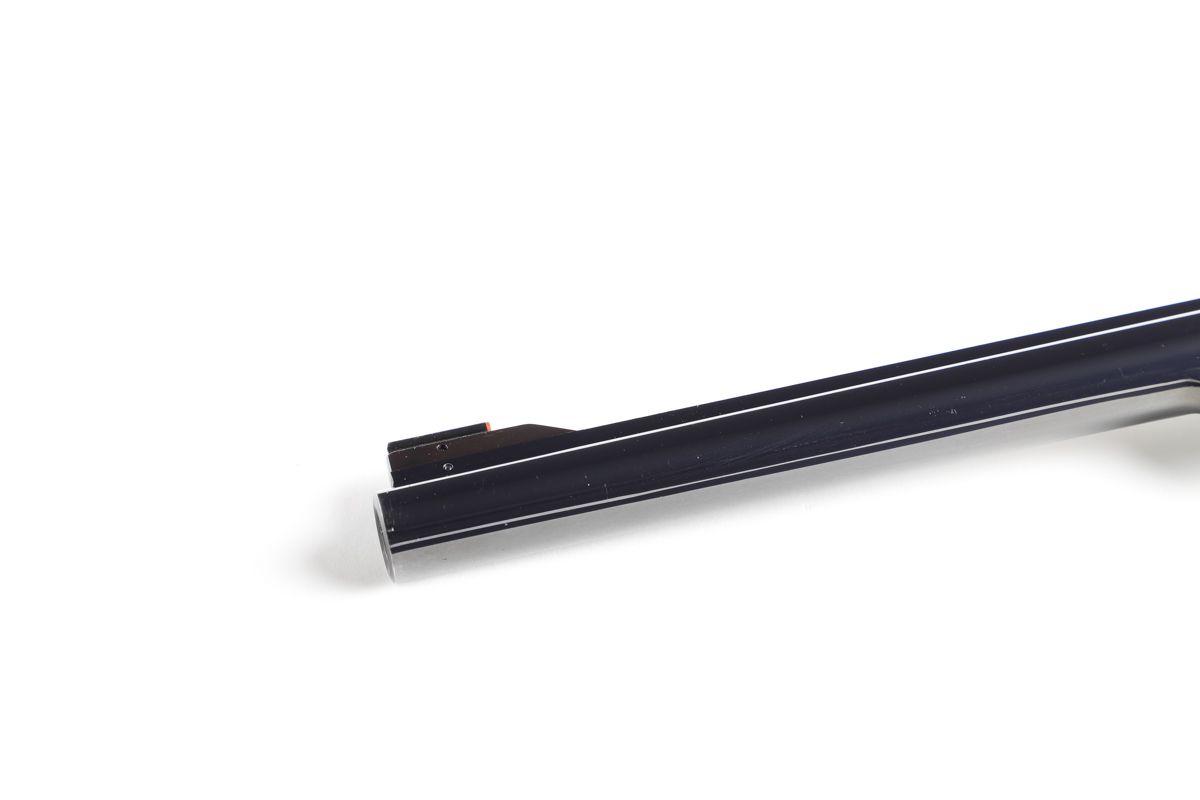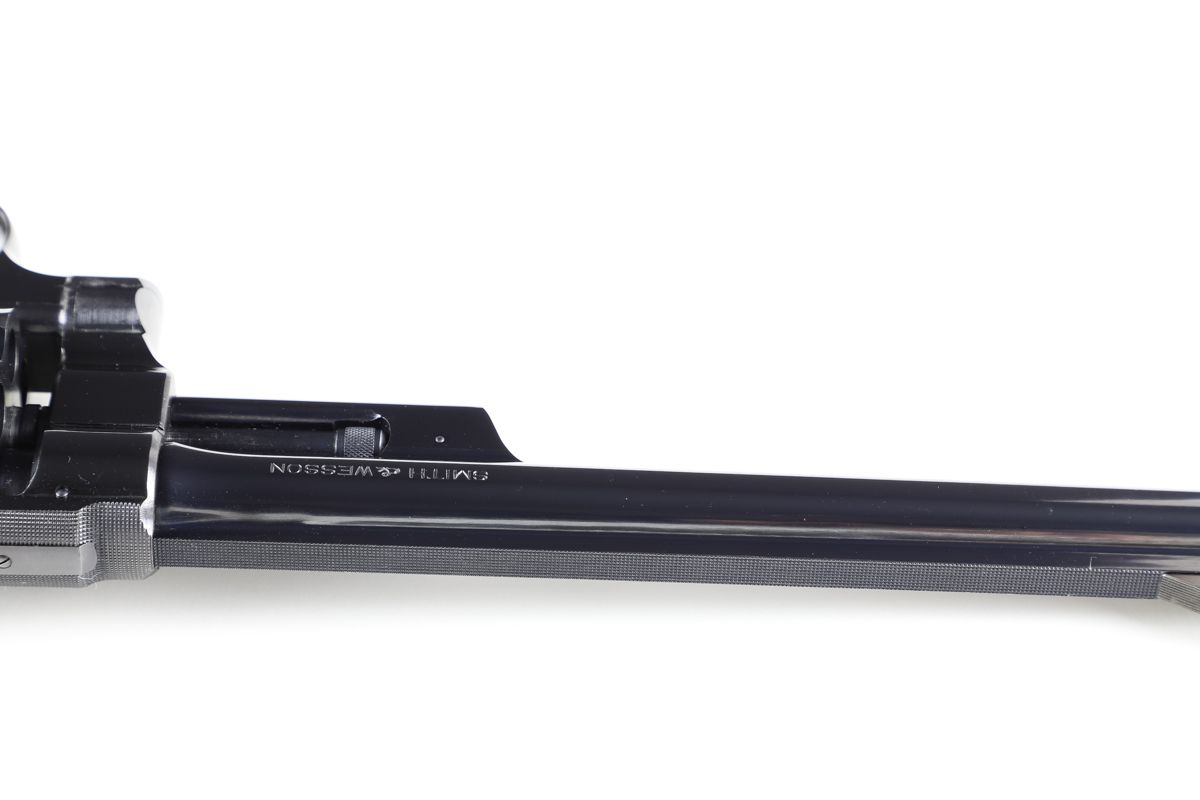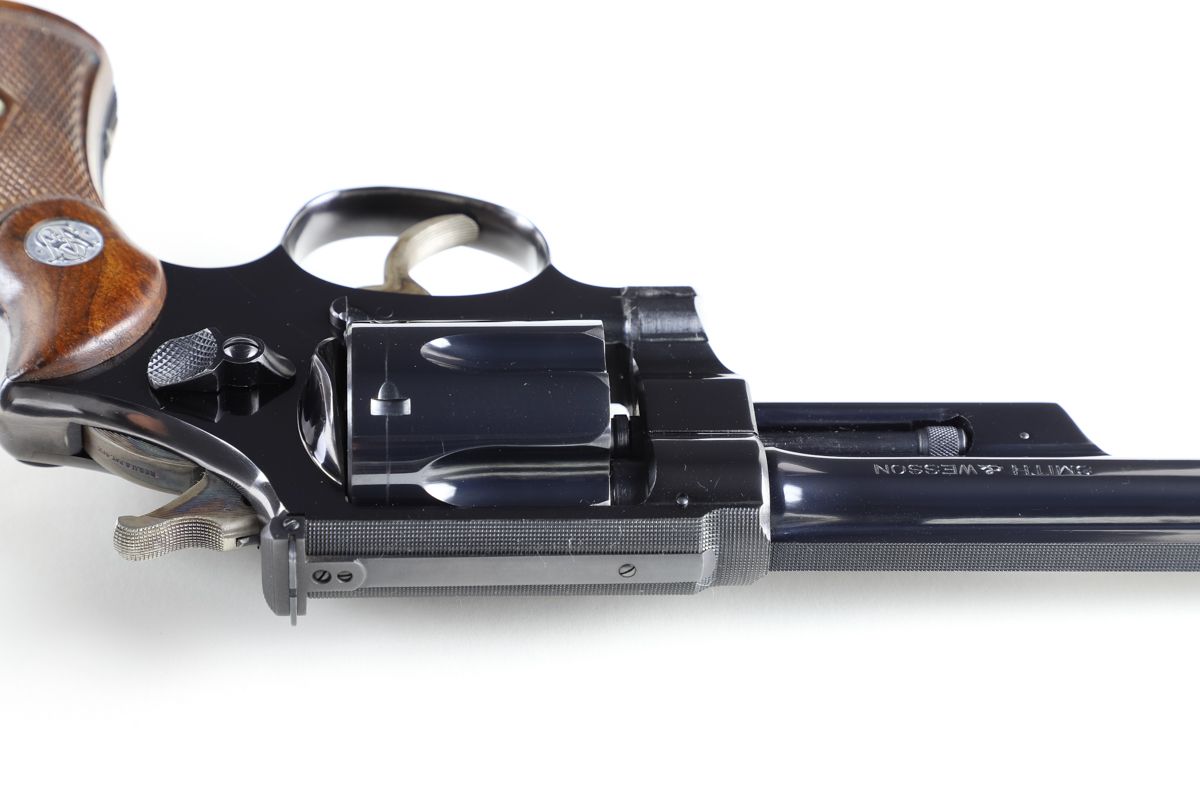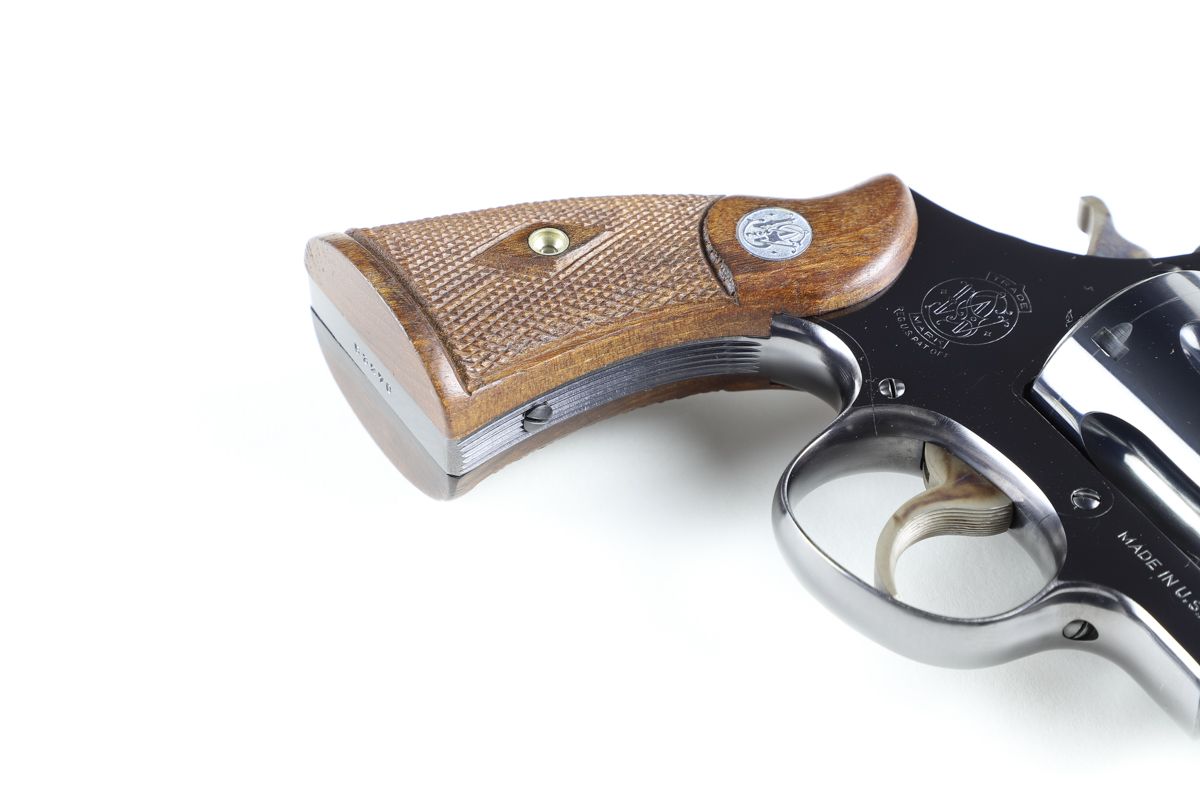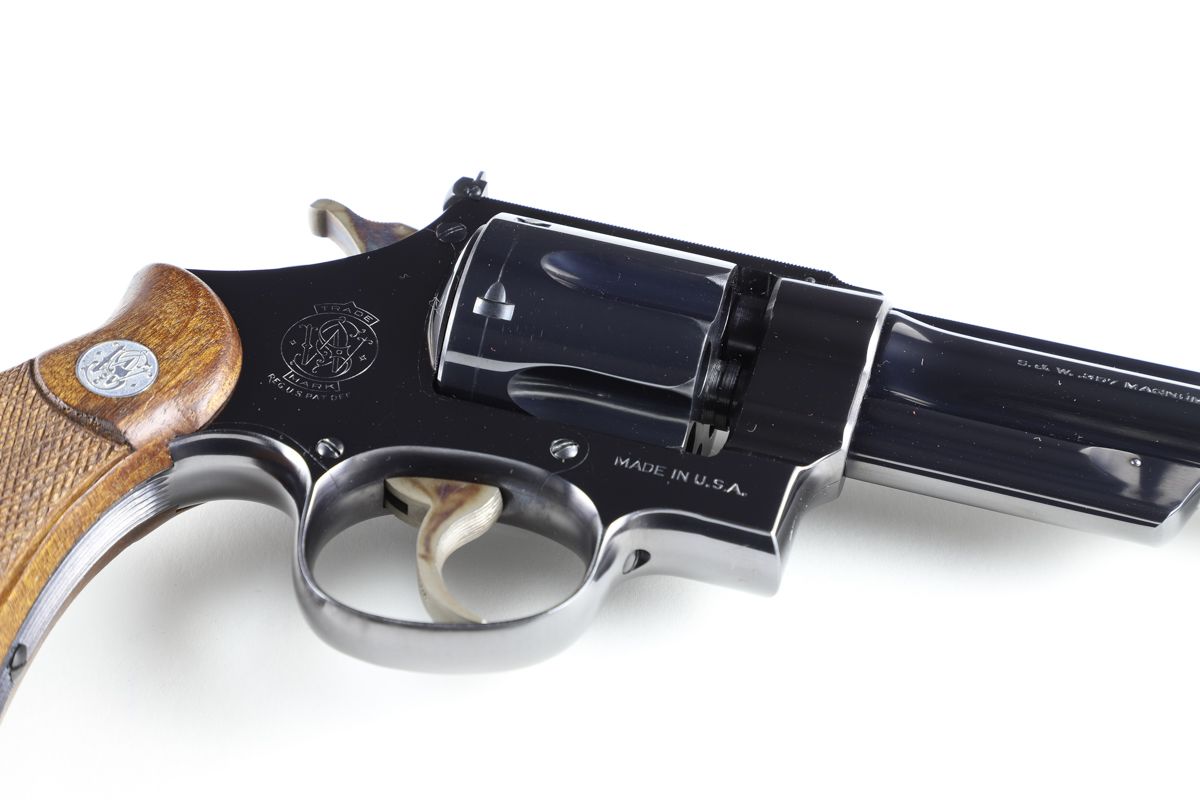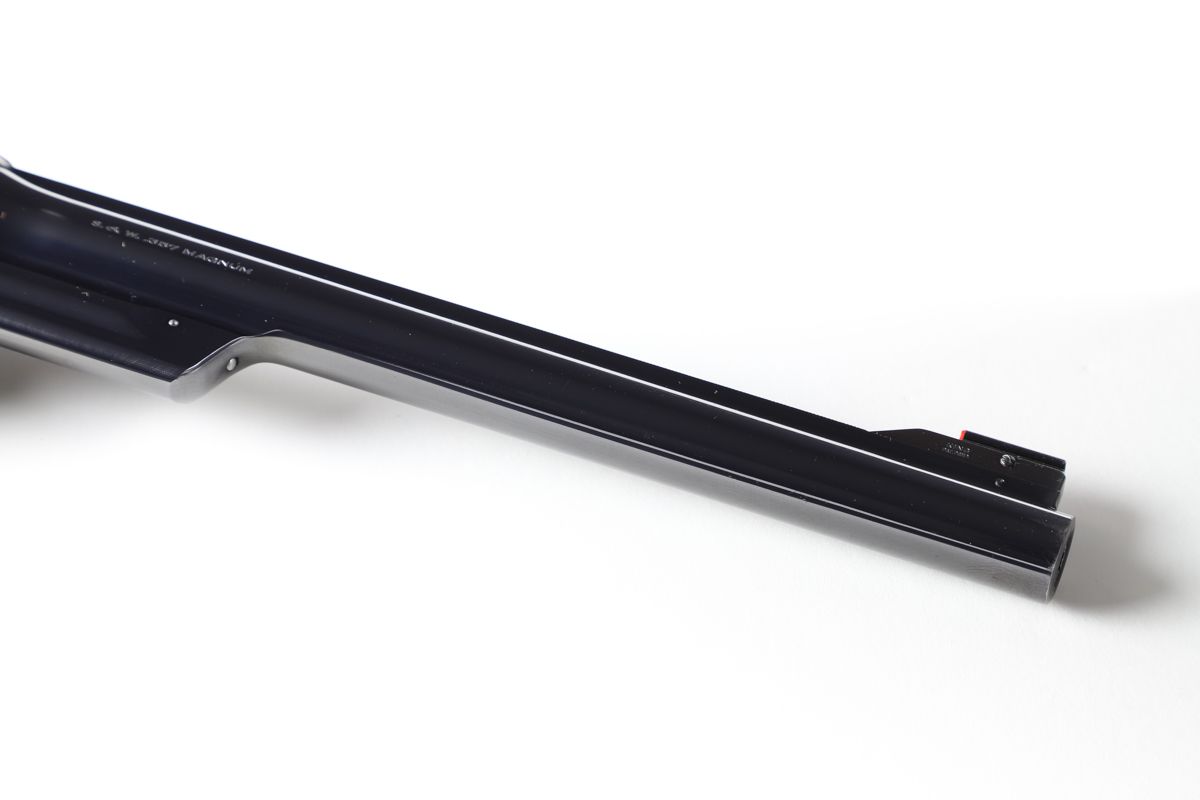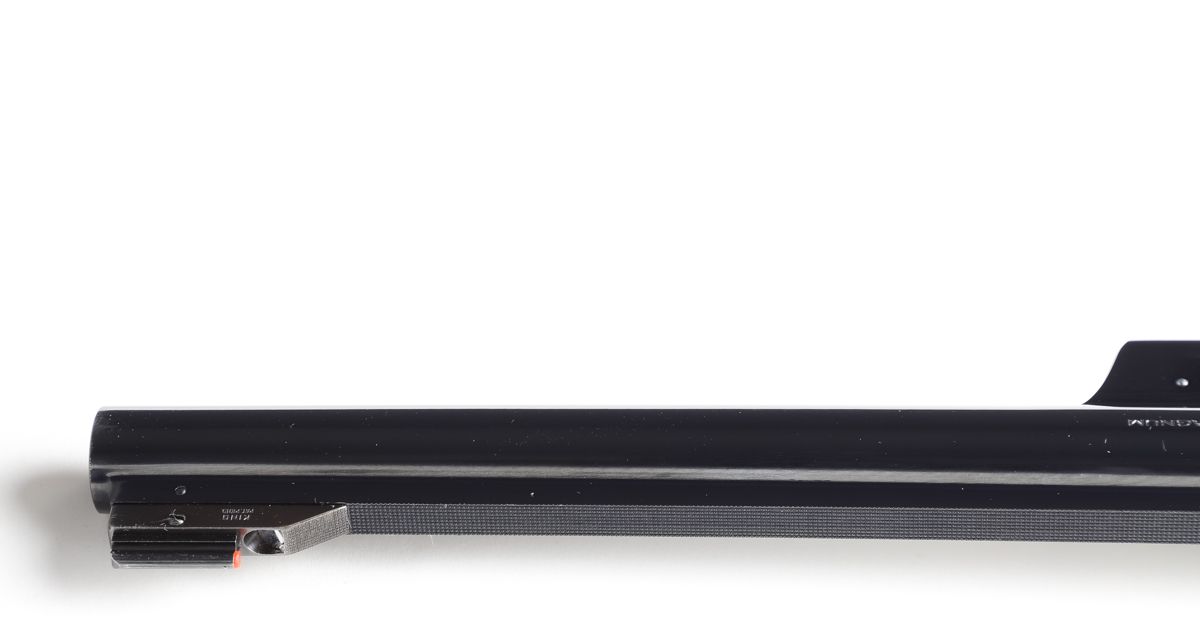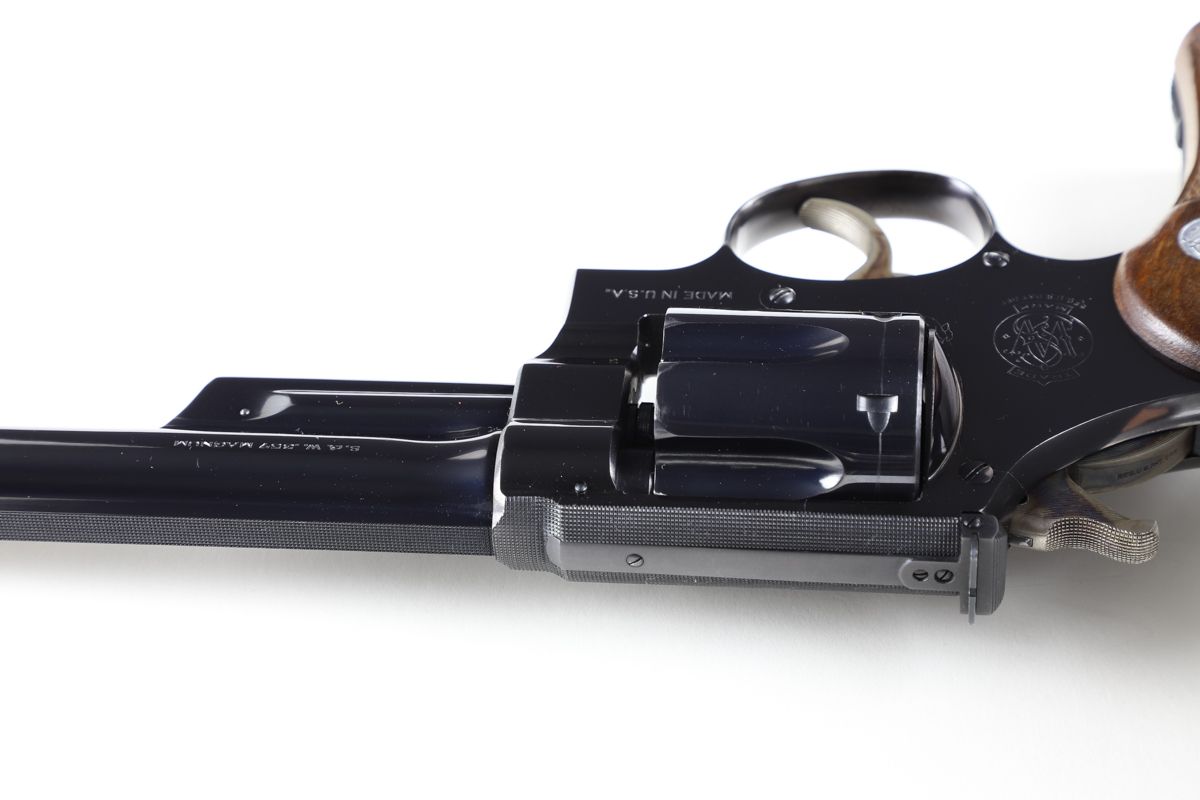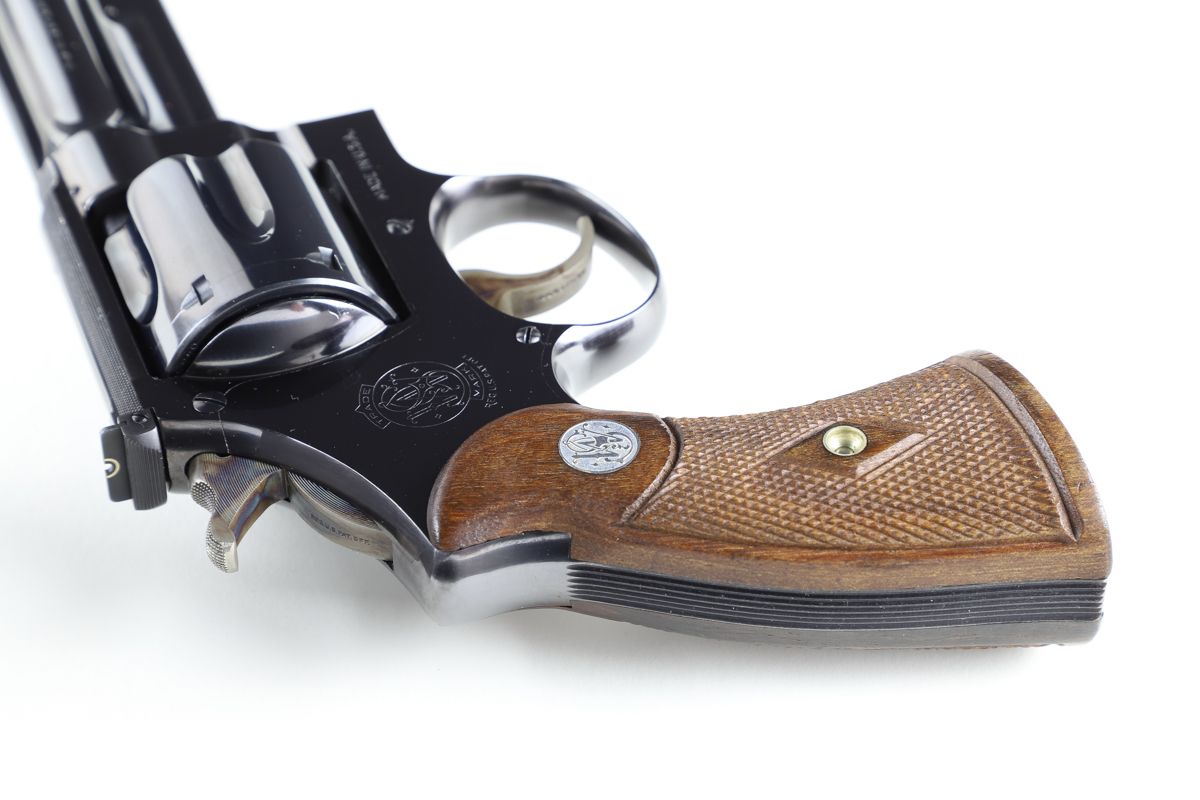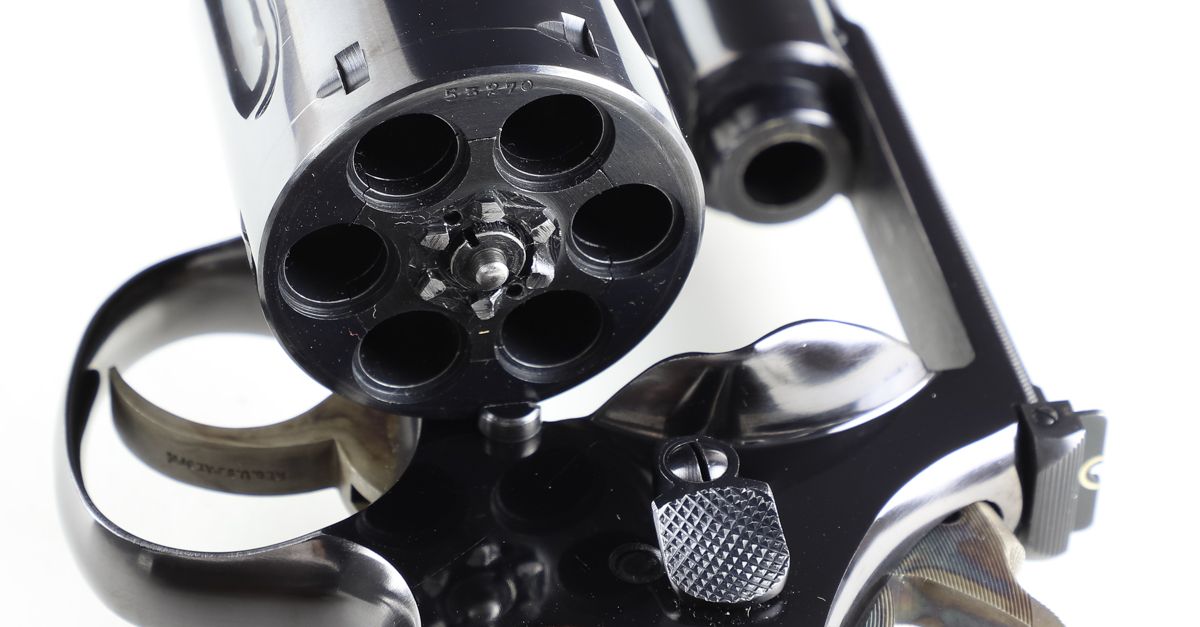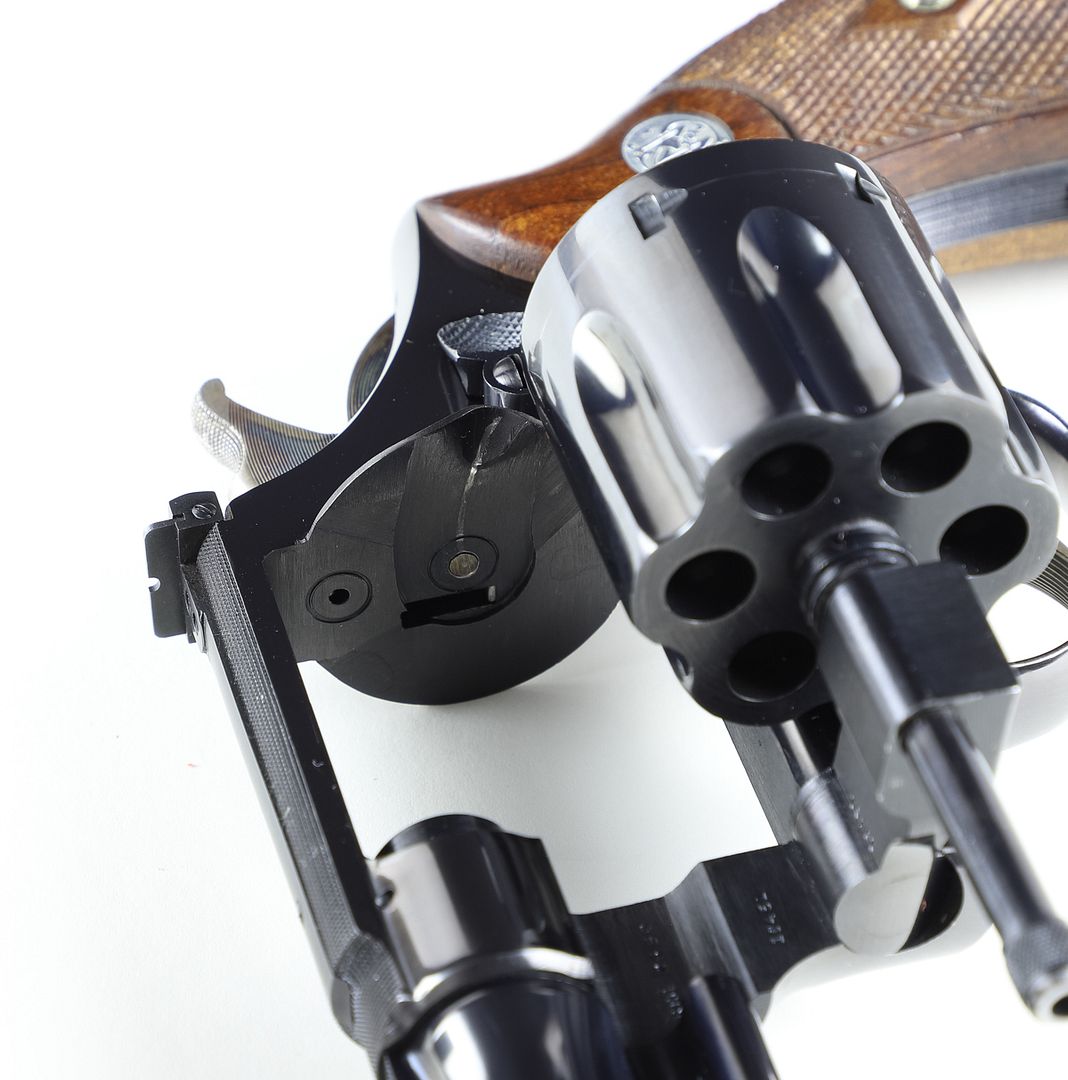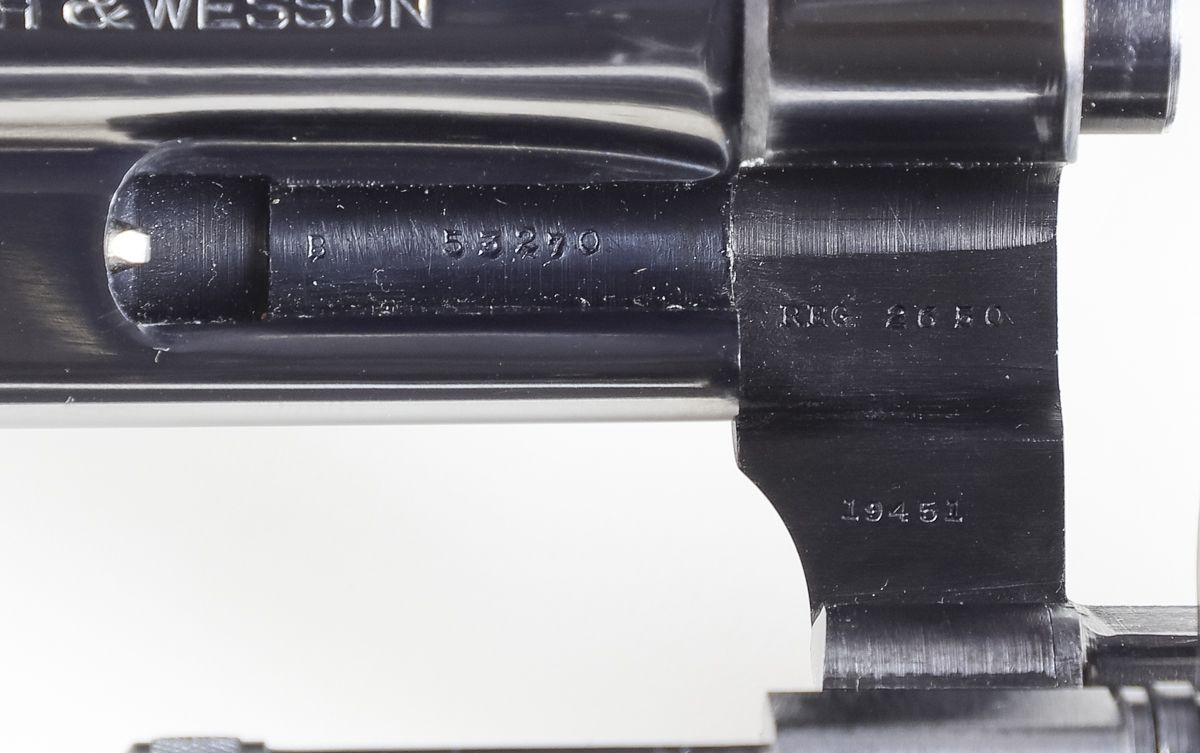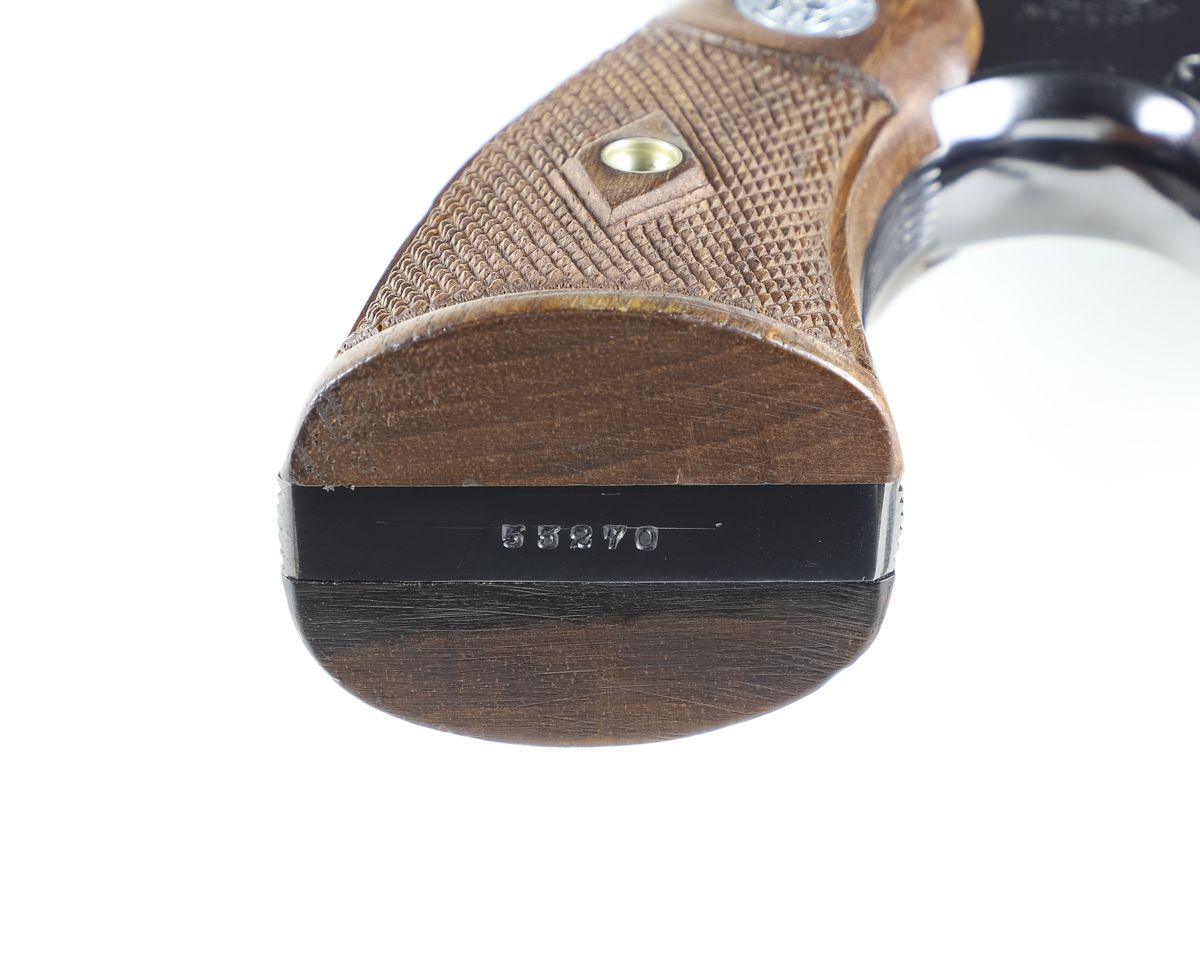 BEFORE bidding, please contact us with any questions you may have about of our auctions. Many of our pictures are stock photos that are provided by the manufacturer and may not be the exact firearm that is described in the item description. PLEASE verify the accuracy of the picture versus the item description. The product title and description will sometimes differ from the product picture. Ex. (A scope is featured in the picture but not included with the rifle or a discrepancy in the frame finish of a pistol.)
All items are subject to previous sell in the retail store.
All Sales Final
Shipping will be to the FFL of your choice
Please verify that this item is legal in your locality BEFORE purchasing
Payment is by credit card (MC/VISA/Amex/Discover) only via GunBroker.com checkout
Sales Tax applicable for buyers in AL
o The condition of the item is located at the top right of the listing. Disassembly or shooting a firearm voids any return or adjustment options that may be extended.
o Please ensure the item you are bidding on is legal in your locality before bidding! If you do not know if the item is legal, please check with your transfer dealer prior to bidding.
o Items that are returned due to a refused or missed delivery or an item not being legal in your locality are subject to a restocking fee of 20 percent of the actual price of the item. Shipping charges will not be refunded.
o Please ensure your dealer is willing to accept items from a third-party/fulfillment center.
o Please email if you have any questions regarding what is included with the item, warranty, how the checkout function works or any other issue prior to bidding.
o You will receive an automated email within 24 hours of winning an auction with instructions on how to proceed.
o Shipping of any serialized item requiring a background check will be to FFL only. It is the responsibility of the buyer to contact their dealer to have a copy of a signed, legible FFL provided to us. Selecting a dealer that is listed on the GB site does not negate or by-pass that requirement. When sending an FFL, please be sure to include the auction number and buyer's name. FFLs received without both of these will not be processed until that information is provided. Your dealer's FFL will be sent to us and we will forward it with your order to the fulfillment center. The fulfillment center will include a copy of their FFL with the item.
o There is a shipping estimator in the listing that will provide the price of shipping.
o We strive to have items processed within three business days of receiving payment and your dealer's FFL, however it may take up to seven business days for an item to ship due to item location, work load, personnel availability, etc.
o Please note that handgun shipping via "2nd Day Air" is the shipping method required by some carriers. This does not mean that you will receive an item within 2 days from the date of purchase.
o Shipping costs are per auction and cannot be combined.
o Overnight delivery orders will be delivered the next business day. In other words, if it goes out on a Friday, the order will be delivered on Monday, not Saturday.
o Payment for all of our listings are to be handled through the GunBroker checkout system regardless of how you are wanting to pay. The checkout system will give you your correct total.
o Please note: To process correctly, you must enter your address information exactly as it is shown on your credit card statement and/or listed on your account by your financial institution. If not, the transaction may come back as "failed" or "declined", and if this occurs twice you are locked out of the checkout function until you contact us so we can provide a re-set for your item. Additionally, if payment is declined you may have a hold on the funds and/or show a pending charge that will not lift for 3-5 business days when the decline hold is lifted by your bank or financial institution.
o Sales tax is assessed on all sales to the listed states. If you are a business with a sales tax number/account for resale in a listed state, you will need to provide documentation in order to have sales tax refunded.
o Please contact us via Gun Broker or email us at sales@birminghampistol.com. Phone calls will not be accepted at this time. Messages through GB are responded to via email therefore, your listed email address for your account must be valid and up to date. Please note that we maintain normal business hours M-F, and some messages may take up to 48 hours to be answered.